Dexter Meat & Carcass


Dexter cattle have long been marketed as both tasty and efficient producers of beef. As the Dexter breed grows in popularity, our membership as well as Dexter producers across the country, and world are searching for a source of data to back these claims. This page is an effort to compile all the available data into one spot, so breeders have both easy access to this information and a place to direct prospective customer to.

Tasty is of course an individual's own unique perception of our product, but there are many, many testimonials from Dexter beef consumers. A taste test was performed by the American Livestock Breeds Conservancy in 2008. The article and results can be found using this link: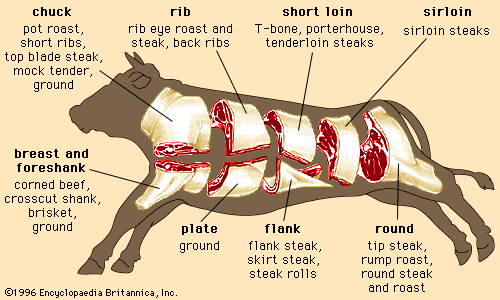 ---
The efficiency of Dexters can be measured, and has been measured in both feedlot tests and in individual tests. By clicking on the "MDBA Beef Data Oct 2013" link below, you can access all the data we have on Dexter beef. While not every set of data has the same information available, the single most asked question of "what is their percent of yield" is answered. We have tried to identify whether the animal was grass finished or grain finished, age at time of slaughter, and sex of the animal at a minimum.
---
This page will continually be updated as additional producers provide us with carcass information. We encourage you to participate by clicking on the link below "Carcass Questionnaire" to provide us with data gathered from your herd, whether it's one animal or 100, we want your data!
If you have any questions, or comments, please email them to: webmaster@missouridexter.com We welcome and encourage your input into this important project.


Interesting facts:


The average percent of yield from all animals over 12 months is 55.61%.
Animals 12 months and under have an average yield of 50.75%
Animals that were only grass fed/finished had an average yield of 56.08%
Animals that were grain finished had an average yield of 55.41%
The average rib eye area per hundred weight of Dexters in our data is 2.57
The average rib eye area per hundred weight from a 2006 Arkansas Steer Feedout Program of commercial cattle showed an average of 1.67%